In the early 2000s I had the chance to hear a couple of songs by a very young English girl. I also saw
a video of her song "Stronger than me" and I quite liked it.
In the UK was the Duffy time and all that new 50s / 60s sounding soul revisited vintage trend.
So I thought, another teenager who does R & B English, destined to a few good singles and then
to oblivion, although that look and that voice had something uncommon about them.
A few years later Back to Black became a huge worldwide success, leading her it to win 5 Grammy Awards.
Rehab was listened and danced to everywhere.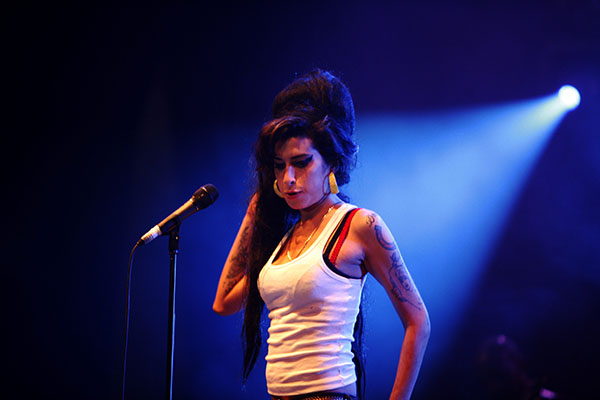 Her style had not changed, it had only shaped up, the same Billie holiday jazzy timbre, same look, maybe less clear, but certainly of equal intensity, reminding me so much of Anna Magnani's twinkling eyes.
At last something new, I thought, an album with a concept, such as those they used to do in the good old days. I bought it as when you buy a book that makes you curious or when you go to an exhibition of a new sculptor or photographer, without knowing much about them.
The album was a revelation, mainly perhaps because unexpected.
With Love is a losing game I realized I was listening to an artist, a real one.
In time my curiosity had grown into attention.
I find out that this young star played the guitar, wrote her own lyrics, chose personally her artistic producers and actively collaborated in the creation of the sound that has made her a unique and inimitable singer.
This small, tiny, Jewish girl who lived in Camden, a historic neighbourhood in Northern London, has succeeded where many today's American stars have failed: combining jazz with pop, with no pathetic compromises, no kicking back but showy or cool, a real miracle that only a simple and unwitting heart could perform.
Her voice has become a model. I've lost track of the singers trying to make her inspiration and intuition their own.
Winehouse not only invented a musical genre, but also a contemporary and innovative style of singing.
Her songs are the evidence of the many jazz records she swallowed in her teenage years, thanks to a
family who, at home, used to listen to Ella Fitzgerald, Sarah Vaughan, Nina Simone, Tony Bennett.
Her interpretations reveal no excellent technique, are often almost inaccurate, but express unmatched emotion and expressive intensity.
Well, a small Bob Dylan (with all due respect to the genius) of our days.
A strong, spirited woman: her makeup and her hair styles have made her a modern icon.
They say that at a club concert in London, when she had already achieved some notoriety, a girl in the audience asked her if her hair was all hers. With a smile she answered that, as she had bought it, it was surely all hers.
Introverted soul, tortured, suffering like those who make "Art" because they cannot do otherwise, but without losing the sweetness and tenderness of a woman who wants to love.
I will not venture writing further about her and her complex life, the way she was not able to safeguard the incredible talent that Nature had given her from the usual fate of those cursed by music.  Also, because I never had the pleasure of meeting her and any book or film about her can definitely give better information.
I wish to speak of her as an aficionado, a fan, a human being impressed by that voice and those songs proving that even today it is possible, in spite of a general levelling out, standing out artistically.
She played the guitar with long nails, in an uncomfortable position, but her arrangements and harmonic and melodic choices were far from inaccurate.
Her lyrics were the result of personal experience, and in those words she was able to give a perfect synthesis of the deep feelings that filled her, her love of life and her perfidious fascination for                    self-destruction.
She sang, played and composed to beat her congenital depression.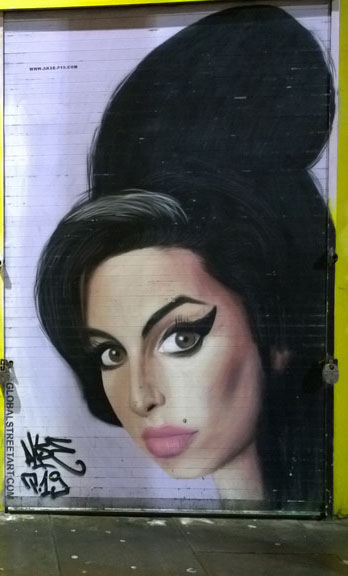 She used to do this for hours, often by herself in her room, out of the sheer pleasure her soul felt in doing that, shying away the stage and the huge success that inevitably came after the release of her songs, the very same success she feared and that ended up eating her alive, a victim herself of her own character.
She died aged 27, young, too young, like many others who had a similar career and, like her, shared the same fate of martyrdom. Drowned in alcohol and betrayed by eating disorders.
Her story, her songs and her intense art remind me of another young genius, who died very young and with a limited production too, but of an amazing quality: Jeff Buckley, an American, drowned in the Mississippi at the age of 31 years, author of Grace, a memorable album.
Winehouse, like Buckley, to name but two of  the latest  in a long line, represent that miracle that brings together, over the duration of a song, Man with eternity and the awareness of its mystery, a short life's  lightning with "forever."
Such people who, with their unpredictable and fascinating inconsistency, help us live our reality, contaminating it with their imagination, showing us the dark side of loneliness and bringing the depth of our feelings to the surface.
And their unawareness in offering such gifts is only equal to their genius.
Love is a losin 'game, listening to it is a good way to get on with the day.
( English translation/Traduzione di Emanuela Ciocchetti) Articolo in italiano Amy Winehouse: l'ultima dea dell'Olimpo
( foto da agujero. com, youtube.com)