Welcome to our second appointment with our culinary stories.
Many foreign words are used in the Italian language to give a concept greater impact.  When speaking of Italian culture and the eating habits of the Italians, there is a category of people called breakfast skippers. 
These have diminished greatly in recent years, and more and more people understand the importance of a healthy, balanced breakfast, preferably eaten at home with the family. Many people choose sweet things, while others prefer savoury, and others a combination of both.
In the 1980s, in Italy, people started to show a great interest in the different flavours of foods in general, and most of all for the breakfast foods. 
In the second part of the 1990s more attention was focused on health and nutrition… words such as "wellness" and "fitness" entered the Italian vocabulary, as well as the word "light" which was used to express the idea of healthier foods. 
The idea of less fat, less sugar and more fibre in foods became very popular. The consumption of butter diminished and milk became less fat. 
Italian people have started to slow down and pay more attention to the first meal of their day, their breakfast.  
In the last decades, in fact, the ritual has changed and according to the latest statistics, in Italy 1 family out of 3 enjoy a nutritious breakfast at home with the family.   Breakfast has become more nutritious and it includes a more balanced mix of complex carbs, simple sugars, fats and protein.
Unfortunately, however, not everyone can make a healthy choice, and according to the 2015 statistics today 1 Italian out of 3 still eats meals in bars and restaurants, and 5 million people have a quick coffee or cappuccino, accompanied by a cornetto or brioche, standing up in a bar.
These products, though, are rich in saturated fats.  In fact, in the list of the top ten foods to avoid because they are harmful for our health, we find margarine, an ingredient very much used in industrial products.  It's obtained with the hydrogenation of vegetable oils, often palm oil. 
Those products called non-hydrogenated usually contain a lot of saturated fats.
Nowadays, another word that is very popular in the vocabulary of the Italians is SENZA which means WITHOUT, but when speaking of food, we could say it is used like the English word FREE… butter free, fat free, yeast free, cholesterol free, lactose free, gluten free, sugar free, hydrogenated fat free, palm oil free, and so on… and we ask ourselves, with all this SENZA/FREE, what are we really eating? 
Let's face it, it's not easy to do, but just as we can be sensible by reading the ingredients on the food we purchase, we can also be selective when choosing where to eat our meals. We should try to encourage quality, and be well-informed and careful consumers!
This the end of the articles on Italian snack and breakfast foods, and we want to give you a recipe for a delicious homemade brioche.
Ingredients recipe for a delicious homemade brioche:
1 kilo of strong flour
14 grams of bread yeast
4 tbsps of sugar
300 millilitres of whole milk
4 eggs
16 grams of baking powder for desserts
Grated lemon or orange peel
1 tsp of vanilla extract
1 pinch of salt
80 grams of cold butter
250 grams of raisins soaked in rum
Cinnamon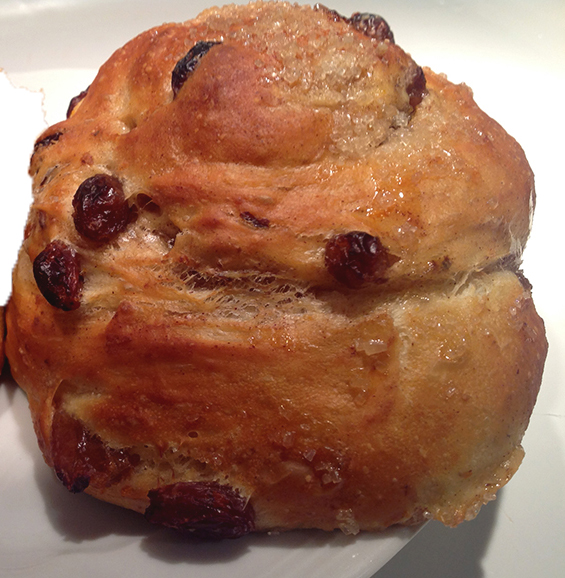 We weigh the flour and sift it into a bowl but leave a little bit on the side because we might need it at the end if the dough becomes sticky. We mix the bread yeast and the flour while heating up the needed amount of milk, then we pour one third of the milk in the mix. 
We add the already beaten eggs and then the sugar, the baking powder, the grated skin of a lemon or orange, the vanilla, the rest of the milk and the salt. While we knead the dough we can smell the delicious aroma of the citrus and vanilla. 
When the dough is smooth and no longer sticky, we add the cold, diced butter and continue kneading until the butter is completely melted into the dough.
Then we put it in a slightly greased bowl, cover it with a damp kitchen cloth, and leave it rise for a few hours. When the dough has doubled its volume, we add the drained raisins (previously soaked in rum, or if you prefer warm water), and cinnamon, as much as you like. 
We make little balls of dough and leave them to rise with a good amount of space between them and covered with plastic wrap.  When they have doubled in size, we brush them with milk, heat the oven at 200°, and when it is warm we bake them until golden.
Our articles on snacks and breakfast foods are over, but we will see you soon for new culinary adventures in the world of bread and its origins!
(Foto e English translation di Tina Ferraiuolo & Cristiana Ordioni)